WE HELP TECHNICAL TEAMS BRING THEIR DESIGN TO LIFE
Cutting Edge Laser Machining & Micro Drilling 
YOU SHOULDN'T HAVE TO COMPROMISE YOUR VISION.
We get it – you've worked hard to craft the ideal design. The problem is that traditional machining limitations are threatening to send you back to the drawing board.
It doesn't have to be that way.
The advanced materials you require
We Machine Hard, Brittle & Specialty Materials including:
The feature or pattern you designed
Bullen can machine a limitless number of different cuts and shapes, including:
The engineering support you deserve
At Bullen, we don't just build your part, we begin with final production in mind. Our dedicated team of engineers will:
Consider your unique needs
Seek ways to drive down costs and increase efficiencies
Build custom machines to mass-produce your part if needed
Borosilicate: Borofloat®, Pyrex®, D 263 ™ , Hoya SD-2
Fused Silica: HPFS® Corning 7980, Schott Lithosil®
Quartz
BK7, Soda Lime, and other glass materials
Alumina
Aluminum
Nitride
Boron Carbide
Silicon Carbide
Silicon Nitride
Zirconia
Yttria
Sialon
Ferrite
Titanium Nitride
CVD SiC
Converted SiC
PCD
Ceramic Composites (CMC)
Silicon
Germanium
Sapphire
Spinel
SiC
Calcium Fluoride
Vespel
PMMA
Bismaleimide
Polystyrene
Polycarbonate
PARTNERING WITH
GLOBAL ADVANCED TECHNOLOGY COMPANIES
FOR OVER 50 YEARS
Aerospace & Defense Companies
Mems & Microsystem Developers
Medical & Life Sciences Organizations
Semiconductor Equipment Manufacturers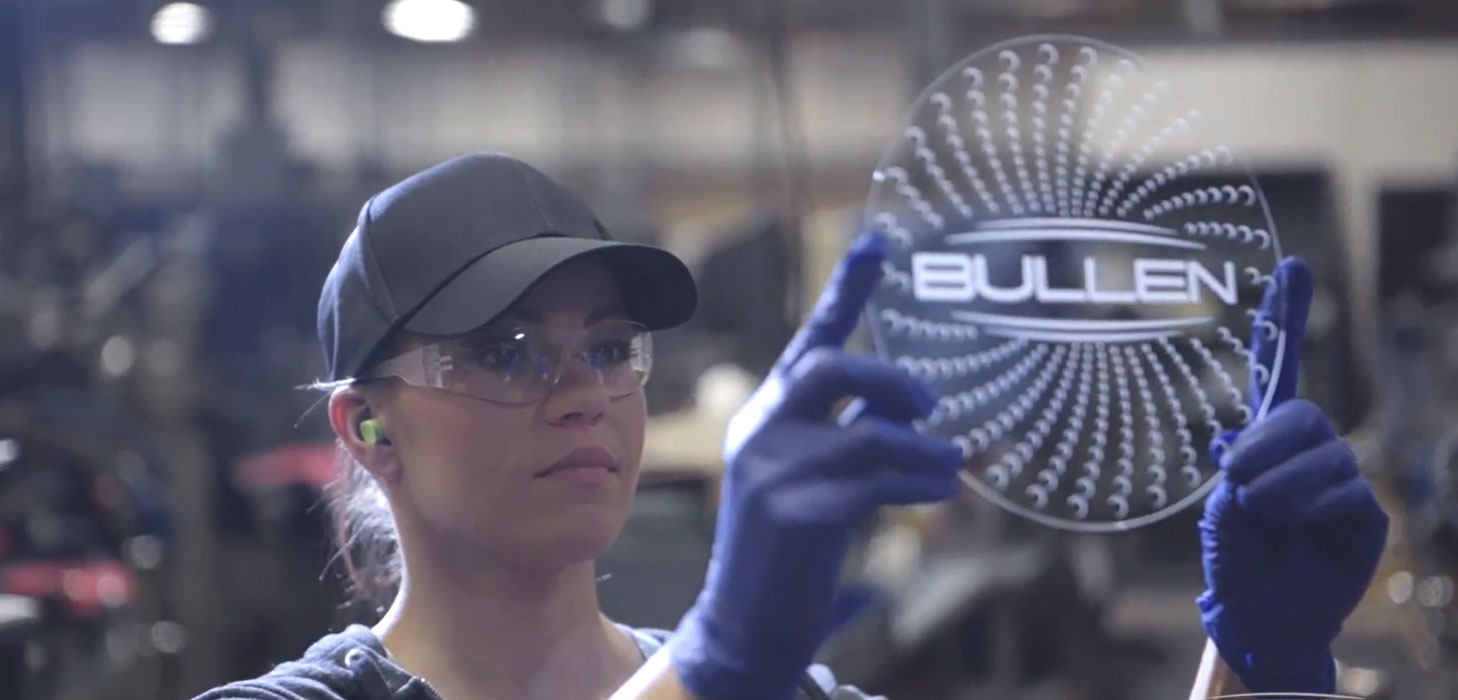 UNIQUE CAPABILITIES BEYOND
TRADITIONAL MACHINING
We have meticulously refined our proprietary capabilities to deliver viable solutions to complex engineering problems. Our Sales Engineers collaborate with you to identify which machining capability fits your project best.
ULTRASONIC MACHINING
The world's leading Ultrasonic Machining company, Bullen provides a superior solution to traditional machining when your design requires a feature or pattern in certain hard, brittle, & specialty materials.
Explore Ultrasonic Machining >
MICROLUCENT® MACHINING
Bullen uses unique laser technology to cut precise features in transparent materials. This proprietary technology lowers costs while improving the quality of cuts.
Explore Microlucent® Machining >
A Simple Process to Solve Your Complex Engineering Need 
1. Talk To Our Team
Talk to our team  today via phone, email, or an RFQ. Describe your design, budget, and timeline, and one of our Sales Engineers will get back to you quickly - most of the time, on the same day. If we're not the right fit, we promise to point you in the right direction.
2. Plan
We leave no stone unturned during our planning process. Bringing in our engineers, R&D team, and technical support staff, we review your design or concept and work with you to understand your unique requirements. In this phase, we often collaborate with clients to reduce product realization times and costs without sacrificing superior quality. We then prepare a project proposal for your review.
3. Prototype & Pilot Production
We know your time is valuable. That's why your dedicated Sales Engineer will serve as your advocate, ensuring your custom prototype is delivered on time and to your quality standards. We are already evaluating what final production will look like in this phase, applying innovative solutions to ensure future efficiencies and reduced costs.
4. Produce
Congrats - another job well done! It's time to transform your prototype part into volume production. Did you know that we can custom-build machines and tools for higher-volume clients to drive down your cost? No matter what path we choose, you can rest assured we are working with your best interest in mind and with the same support and quality inspection that got us to this point. Time to check this box and move on to your next challenge!
The Bullen Committment
HERE'S WHAT YOU CAN EXPECT WHEN YOU WORK WITH BULLEN...
A CONFIDENTIAL ENVIRONMENT
While we'd love to boast on the fantastic things our clients are doing, we know that your confidence is of utmost importance. You can rest assured that your production and design are always fully confidential.
FULL TRANSPARENCY IN PRICING & PRODUCTION
No hidden fees, no last-minute surprises. When you engage with our team, we promise to be upfront and provide a clear path to your production. If we aren't the right fit for your project, we'll point you in the right direction.
THE ABILITY TO SCALE
Know you're taken care of every step of the way - from concept to mass production. Our team at Bullen always begins with final production in mind, often custom building machines for our higher-volume clients so they can drive down cost and increase efficiencies.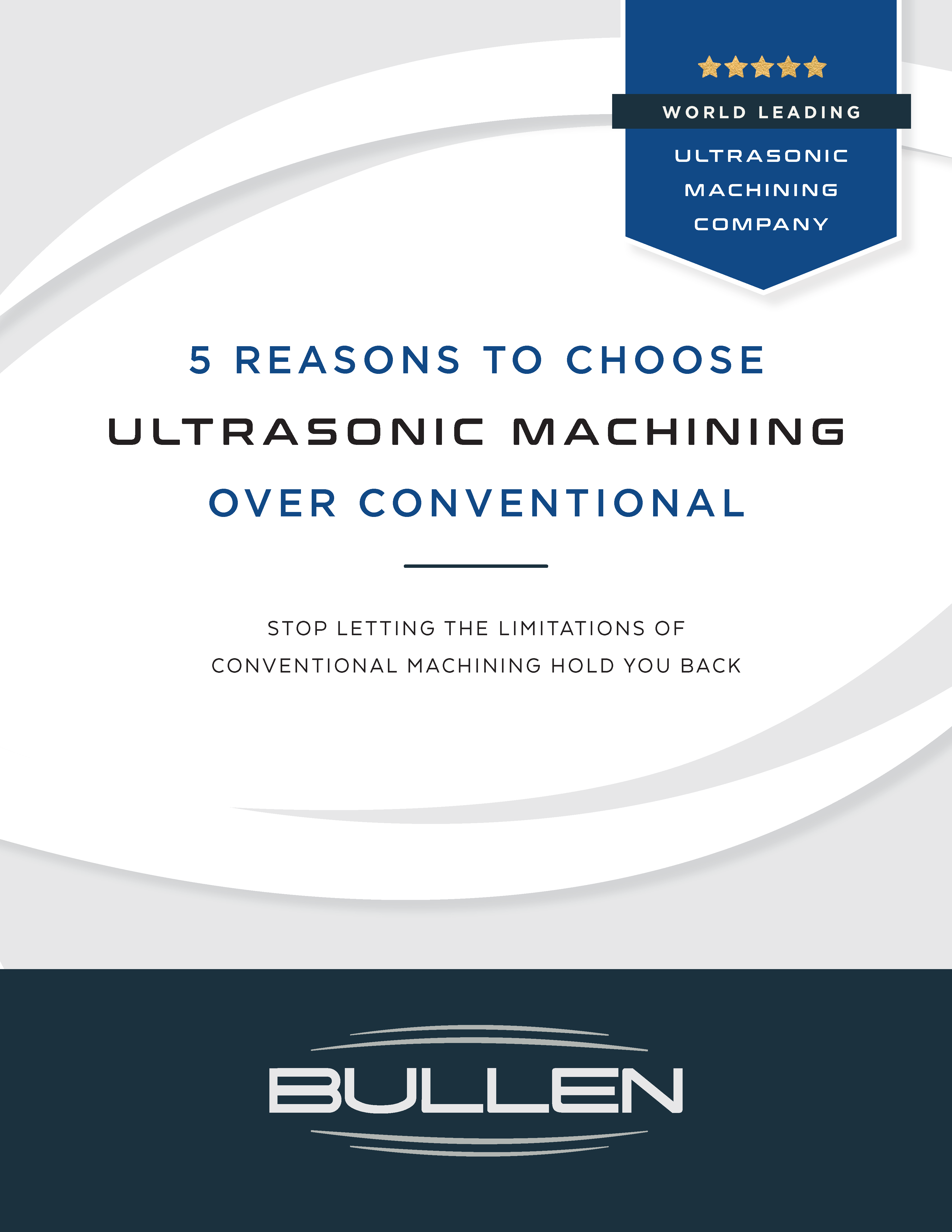 5 Reasons to Choose Ultrasonic Machining Over Conventional
Stop letting the limitations of traditional machining hold you back. Download this free PDF today.
As a seasoned industry expert and your trusted source for machining solutions, Bullen is excited to take you on a deep dive into the world of ceramic machining. In this blog post, we'll delve into the details of working with ceramics, explore cutting-edge machining techniques, and dissect the challenges and effective solutions that define ceramic […]