Drilling Holes in Glass: How to Precisely Machine MEMS Technical Glass
What is MEMs and Technical Glass?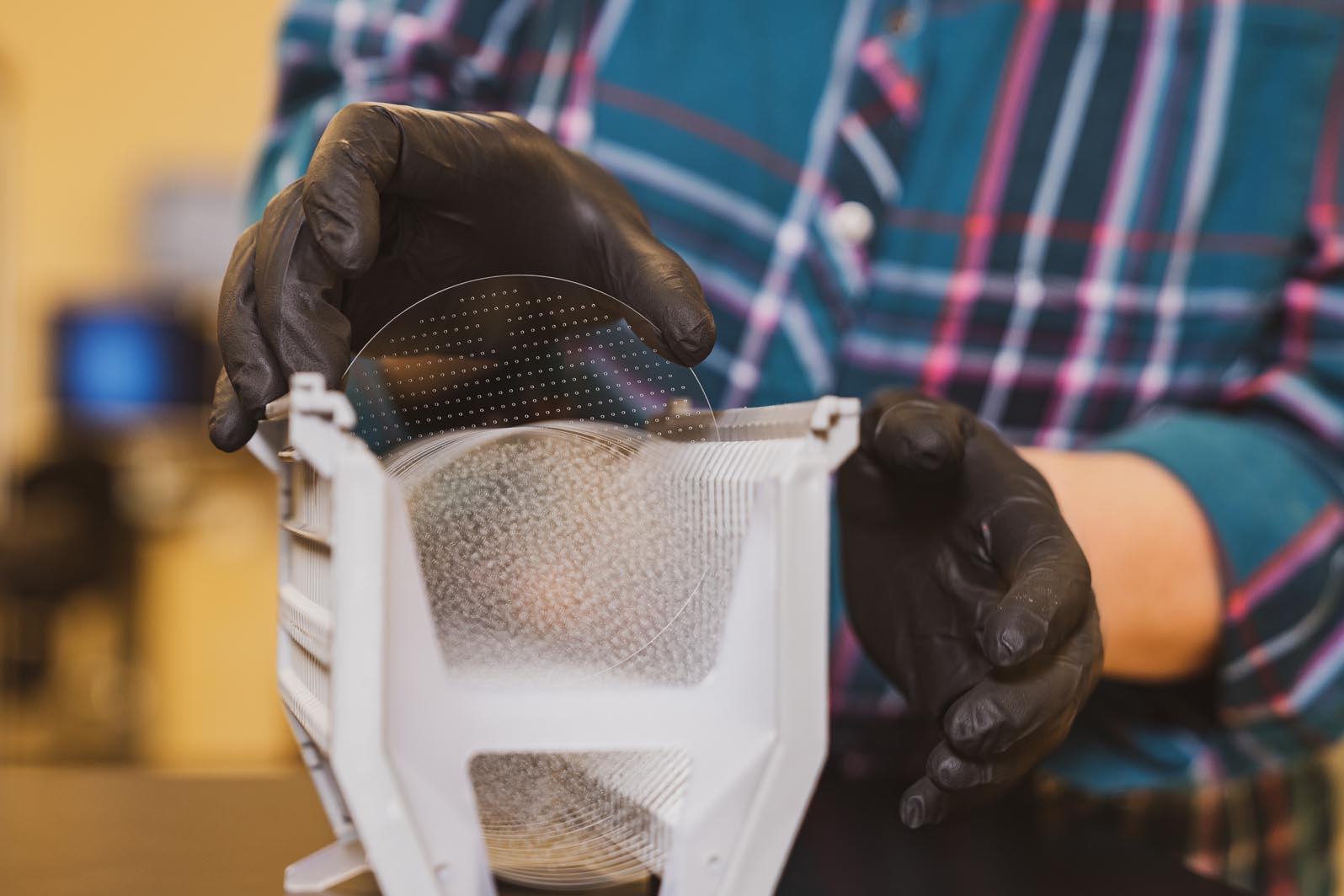 MEMs is an abbreviation for  "Microelectromechanical systems." All it takes is typing out that phrase one or two times to realize why someone came up with an acronym! The term MEMs was first introduced in a technical paper to DARPA in 1986 and is now a common term in the industrial vocabulary used to define the process used to create tiny integrated devices that combine mechanical and electrical systems. MEMs is also referred to as micromachines in Japan or microsystem technology (MST) in Europe.
Glass is often considered a more desirable material for particular MEMS device applications due to its unique properties, such as optical transparency and biological compatibility. The science of precision glass drilling has been refined over the years across different techniques as the technology evolved.
As the desire to use glass in the MEMS industry increases, so does the need to develop better methods to micro-machine the material.  Traditional glass machining or glass drilling methods, such as CNC, are not very effective for brittle materials such as glass.  In addition, as the diversity of MEMS applications expands, the desired features continue to get smaller, denser and more intricate.
MEMs and borofloat ( a common industry term for any borosilicate glass material) are used in vertical markets, including D&A (Defense & Aerospace), Transportation, Medical & Life Sciences, and Semiconductor Manufacturing. 
When it comes to all things related to precision drilling of MEMs Technical Glass, Bullen Ultrasonics is an expert.
Types of Technical Glass
The range of applications for glass machining and drilling is quite broad. For this discussion, we focus on MEMs, MEMs technical glass (wafer glass), and borofloat.
In this market segment, the basic shapes for consideration include:
General Wafer
Structured and Unstructured Wafer, and
Ultra-Thin Wafer
Technical glass is needed for a wide variety of end-use, including pressure sensors, inertial measurements, DNA analysis, implantable sensors, MEMs glass devices, Through Glass Vias (TGV) and Glass Interposers. MEMs glass micromachining has been deployed successfully in microfluidic applications, including flow cell and flow cell components, biomems, lab on a chip, and slides manufacturing. 
If your application calls for precision drilling of MEMs or technical glass, at Bullen Ultrasonics, we help technical teams bring their design to life. Talk to our team about your specific requirements.
Ideal Methods for Drilling Holes in Glass with Precision
There are several unique considerations with precision technical glass drilling. The "must-haves" list for glass drilling usually include:
A high-quality surface finish with minimized subsurface damage (this provides superior anodic bonding performance).
The ability to provide tapered holes or straight-walled round, rectangles, slots, and other odd-shaped vias and cavities (including blind cuts).
Minimized chipping at feature entrance and exit.
Precise tolerance control.
Given these "must-haves," what is the best machining method to achieve these final results? There are various methods for glass cutting and glass machining. Traditional options include Ultrasonic Machining, Laser, Etching, MicroAbrasive Jet, and Water Jet. All options work, but they each come with their limitations.
Ultrasonic machining or a Laser methodology are often chosen for the precision drilling of technical glass. 
Ultrasonic ensures precision tapered holes down to 0.010", a nearly limitless number of cuts and shapes executed simultaneously, 60:1 aspect ratios, corners approaching 90 degrees, nearly vertical sidewalls, and a reduced chance of fracture (i.e., stray material). Learn more about Bullen's Ultrasonic Machining by visiting: https://www.bullentech.com/ultrasonic-machining/ 
Traditional laser is capable of machining glass thicknesses up to 4mm. It offers a minimum microhole diameter of 100 um, with a feature and positional accuracy of +/- 15 um. The pitch min is 10 um, with zero taper angle, zero chipping, and zero microcracking.
However, Bullen offers the next wave of laser machining solutions – MicroLucent™ Machining. This solution is a unique, proprietary laser technology to cut precision features in Borosilicate Glass and Quartz.
We believe you shouldn't have to choose between precision, quality, or affordability. MicroLucent Machining offers high-precision quality at a more affordable cost so your team can execute its vision:
Glass thickness: Up to 12MM
Minimum microhole diameter: 100 µm
Feature Accuracy:  +-15 µm
Positional Accuracy:  +-15 µm
Minimum Pitch: 10 µm
Taper Angle: None
Chipping: None
Microcracks: None
Bullen's MicroLucent Machining process has many advantages over traditional machining options including its micron-level tolerancing, superior yields, high throughput and it results in no damage to substrates and no HAZ.
Bullen can use MicroLucent technology to machine a limitless number of cuts and shapes in glass, including:
Round Holes
Rectangular Holes
Odd-shaped holes
Slots
Blind Cuts
Cavities
OD and ID Work
Blind Cavities
To learn more about MicroLucent Machining, talk to our team, or get a quote today, visit: https://www.bullentech.com/microlucent-machining/
Which Glass Drilling Method is Right for Your Project?
So, now what? We don't recommend you decide what drilling and finishing methods for your project are best based on a few bullet points in a blog post. We'd love to partner with you to determine the most innovative solution for your project. Our team at Bullen knows how to engineer a solution that fits your unique requirements. Put our 50+ years of experience to work, and let us help you design the right solution for your market and your customer. Contact us today!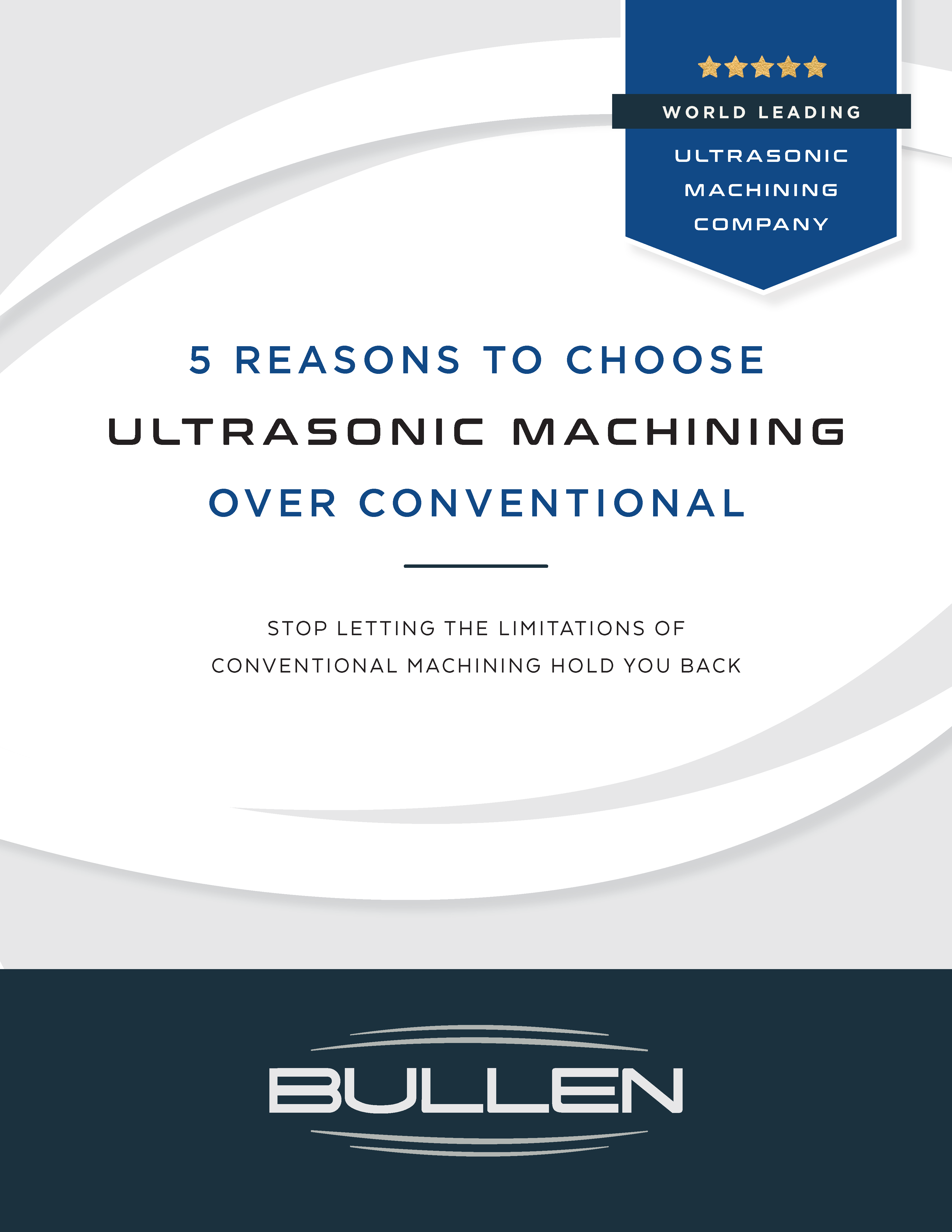 5 Reasons to Choose Ultrasonic Machining Over Conventional
Stop letting the limitations of traditional machining hold you back. Download this free PDF today.