Serving Those Who Serve Our Country
We are committed to empowering veterans and reservists to have a fulfilling career and life.
Find a Fulfilling Career at Bullen
The Bullen team has a strong appreciation and admiration for those who have served and sacrificed in the military. We are honored that 9 percent of our employees are veterans or reservists and they want to be a part of our team. We don't take that lightly. We are passionate about helping you feel a part of a supportive community and finding success in this chapter of your life.
We want to equip you and your family with the resources you need to have a fulfilling career and life.
If you are looking for an organization that understands the strength it takes to be a part of the military, a family atmosphere, and an opportunity for career growth, we'd love for you to apply for one of our open positions.
Our Duty is to You and Your Family
Bullen extends a majority of our Military Benefits to your spouse as well because we understand the big transition your family may be experiencing.
Continued Education and Job Training Opportunities
We understand opportunities for advancement are motivating. We help you determine a career path that aligns with your long-term goals and support the continued education or training you need to succeed.
Our Continued Education Program covers your tuition in full if it relates to a career path available at Bullen. If an opportunity to advance is not available at Bullen after receiving further education, we support your decision to find a job you love with a different team.
Veterans Day PTO
We want to honor the men and women who served to protect our country and people's freedom around the world by observing Veterans Day as Paid-Time-Off for the entire company.
Active Duty Differential Pay
We offer supplemental pay to any of our employees called for active duty with the National Guard or U.S. Air Force, Army, Coast Guard, Marine or Naval Reserves. 
Veterans Employee Resource Group
We feel a strong sense of obligation to help Veterans feel a part of the Bullen community. Our voluntary resource group is designed to connect veterans within our company.
The group supports and encourages each other through shared experiences, understanding the differences between the military and corporate environment, providing personal and professional guidance, and assisting in veteran recruitment and community engagement.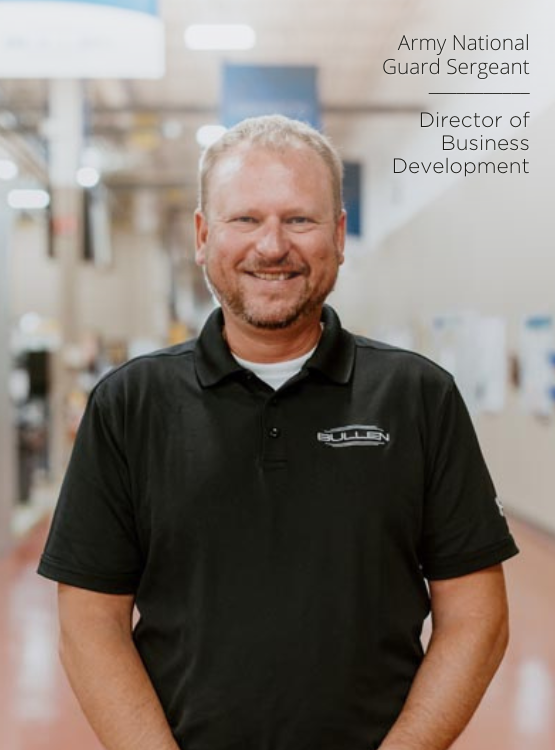 9 percent of Bullen ultrasonics employees are Veterans or reservists of the Air Force, Army, Coast Guard, Marines, Merchant Marines, or Navy. We are very thankful for their contribution to our organization's innovative environment, family atmosphere, and success.
3 Steps to a Fulfilling Career

1. Apply
Ready to see if Bullen is a good fit for you? Take a look at our current open positions and apply today. Our team would love to know more about you, your skillset, and see if there may be a place for you at Bullen. Our team will get back to you after reviewing your application to let you know if we'd like to schedule an interview.
2. Interview
During your interview, you'll have an opportunity to tell us about your passion and skillset, get a tour of the facility, and ask any questions you may have. We know finding a workplace that you love is of utmost importance, which is why we make sure you have plenty of time to absorb all the information and get to know us. Think of this as a two-way interview!
3. Welcome to the family!
At Bullen, we believe your work should be rewarding. Enjoy a workplace that allows you to be yourself, give back, build relationships, and have a healthy work-life balance. After all, work should give you energy – not drain it.
Work that gives back…
Bullen is passionate about serving the military community. Our employees are encouraged to submit for consideration any military initiatives they would love for Bullen to support.