What is Ultrasonic Machining?
Silicon semiconductor processing equipment manufacturers, MEMS applications, and ceramic matrix composites in the aerospace market all need specialized machining capabilities. Our customers consistently ask for support in 3 main areas:
Precision (and accuracy)
Innovative Feature Shaping
Enhanced Scalability
End application engineers constantly seek out mechanically tougher materials sets, which poses a unique challenge when machining these hard, brittle materials. Bullen's cutting-edge Ultrasonic Machining Technology offers unmatched flexibility and quality.
Bullen clients trust us to meet the demanding requirements of high-reliability CMC manufacturing applications.
What is Ultrasonic Machining?
If you've never heard of ultrasonic machining (UM), it might be helpful to start with what it isn't:
UM does not induce thermal, chemical, or electrical agitation. This lower-stress process leaves the target material unchanged.
UM does not utilize laser or abrasive blasting. This provides vertical sidewalls previously unachievable in machining applications.
UM is not constrained like other technologies in machined geometries. Ultrasonic Machining scales better than many competing technologies. Multiple features can be machined simultaneously.
So now that we've told you what it isn't let's delve into what it does. UM is a loose abrasive machining process in which the mirror image of a shaped tool can be created in hard, brittle materials. Material removal begins with a vibrating tool. The vibration propels particles at accelerations in excess of 25,000 g's. These dynamic particles collide with and grind the workpiece on a micro-level.
UM was first introduced in the 2nd half of the 20th century and has seen continuous growth. Bullen has grown along the way, having recently celebrated our company's 50th anniversary.
As material sets have evolved (i.e., tougher mechanically) and the pitch has compressed, the need for ultrasonic machining has increased dramatically, particularly in the last 20 years.
We specialize in custom applications of Ultrasonic machining as a solution for hard, brittle, and specialty materials.
How Ultrasonic Machining Works
In simple terms, UM combines two main elements:
A tool of the desired end shape, and
A high-power sine wave generator + transducer induces the necessary ultrasonic frequency, 15-30 kHz.
The target zone is flooded with hardened abrasive particles contained in a slurry. At Bullen, we use silicon carbide, aluminum oxide, or boron carbide abrasive particles in a water fluid bed. These abrasive particles, agitated by the ultrasonic frequency tool, remove the matindenterial from the target workpiece, leaving behind a precision-machined surface suitable for the most demanding end applications.
Machining Capabilities
We machine glass ceramics, technical ceramics, engineered ceramics, single crystals, and engineered plastic using our ultrasonic machining process.
Bullen can machine a limitless number of cuts and shapes ranging in sizes from 0.008" up to several inches in small workpieces wafers, larger substrates, and material blanks. Aspect ratios can be as high as 60-t0-1 spending on the material and feature.
For a full list of the materials we machine and more details on the features and patterns possible, visit: https://www.bullentech.com/ultrasonic-machining/
Common Applications
Our clients often choose ultrasonic machining for tight-tolerance round thru-holes for semiconductor processing equipment components. It is also used for micromachined and microstructured glass wafers for microelectromechanical systems (MEMS). And, features can be machined into Ceramic Matrix Composites for Aerospace manufacturing.
We custom design our machines specifically for your high-volume manufacturing and design needs. The machine is optimized for automation.
Pros & Cons of Ultrasonic Machining
Still not convinced this is the right solution for you? Bullen's Ultrasonic Machining process has many advantages over traditional machining:
It's the most reliable machining solution for hard and brittle materials, offering repeatable precision down to 0.001".
It enables geometric capabilities not achievable through traditional machining, including rectangular features with corners approaching 90°.
It machines surfaces with nearly vertical sidewalls.
It offers reduced stress and a lower likelihood of fractures.
It offers enhanced scalability, providing efficient ramp-up while controlling cost because multiple features can be machined simultaneously.
The process is non-thermal, non-chemical, and non-electric, which leaves the chemical and physical properties of the piece unchanged.
It integrates well with semiconductor and MEMS machined features and can be aligned to previously patterned, machined, or etched substrates.
While Ultrasonic Machining is often the highest quality lowest cost solution, if there is a better option available for your project, we'll let you know. USM has some disadvantages:
It is inherently slower than some other mechanical processes,
Tool wear is high because abrasive particles affect both the workpiece AND the tool, reducing the usable tool life,
It can machine only hard materials; for example, this method cannot machinate ductile metal.
Feature density can limit depth and aspect ratio for holes.
At Bullen, we also offer CNC grinding and our brand-new Microlucent Machining technology. If we can't help you with our in-house offerings, our team can guide you to a solution to your problem, even if that means you need to use a provider other than Bullen.
Our Ultrasonic Machining Process
Bullen has optimized the front end (specification, drawing review, and statement of work) and the ultrasonic machining itself, as demonstrated in this YouTube video to deliver a comprehensive, industry-leading solution set.
Bullen's philosophy is demonstrated through:
Excellence – we bring the best to all we do, from the first customer service interaction through delivery of the final solution.
Humility – we accurately estimate our capabilities… and if we know you are better served with a different provider or technology, we'll tell you!
Integrity – we keep our word. We believe in saying what we'll do, and doing what we say.
Teamwork – we view our customers as partners – as you succeed, so will we.
The combination of our leading-edge technology and our dedication to total customer satisfaction is unmatched in the machining industry.
Our ultimate desire is to be your machining partner of choice. We have a simple process for solving your complex engineering process.
Talk to our team or Request a Quote to start the journey to better products for your applications.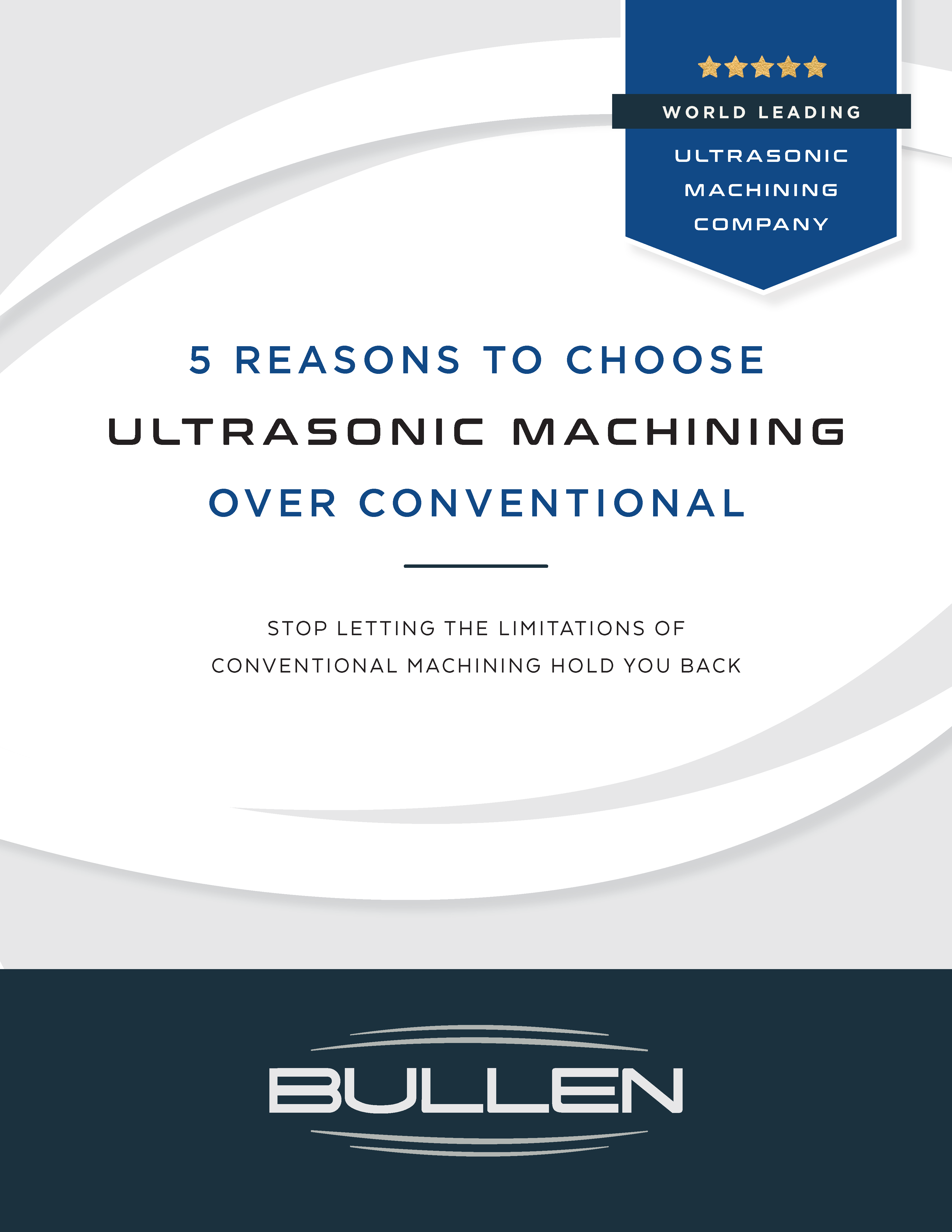 5 Reasons to Choose Ultrasonic Machining Over Conventional
Stop letting the limitations of traditional machining hold you back. Download this free PDF today.