The Robotic Future of Bullen
Automation & Innovation
At Bullen Ultrasonics, we strive to continuously improve everything we do. Bullen has always been a leader in innovation and development of cutting-edge technologies. Our unique and unconventional machining technology has enabled high-tech companies to solve many of their most challenging production problems for decades.
Industrial automation is crucial for success in the continuously improving and highly competitive market. The future of automation is robots. There are about 400,000 new robots that enter the market each year. One of those is at Bullen Ultrasonics, the 'Fanuc 6-ay's robot". We are continuously looking to improve safety, precision, and reliability with robotics.
Bullen has continued to see success in innovations. Robotics is part of the strategic plan. Bullen has added automation and pursued "Industry 4.0". Here at Bullen, we are collecting machine data to improve our production processes and apply Robotic Automation. Through all the technological advances, we have discovered that we are not eliminating the need for people, but rather changing the environment and competence that our workforce requires. Automation education and exposure to robots are becoming an increasingly popular trait and retention tool. We will always invest in and value our most important assets, our employees, and robotics will compliment that steadfast belief.
Why Robots?
Bullen Robot Application = Machine Tending
Reduced Cycle Times

Ability to Pre-load machine for complete part
No loss of time between operations

 Self-Cleaning Automation

Built-in wash down stations to clean both tooling and parts
Reduces cross contamination between equipment

 Traceability

Fully integrated into data collection system
Robot processor will perform every operation in the same order each part

 Downtime
Vision

Eliminates misloading
Eliminates operator decision-making when loading carts

Safety

Reduces injuries due to handling heavy and dangerous tools
Creates consistency in process with multiple operations
Although, exposure to robotic automation is much more than just being around our latest Fanuc purchase. Automation is introducing light curtains, door circuits, vision, and conveyer systems, which all work together to make the system function as a whole.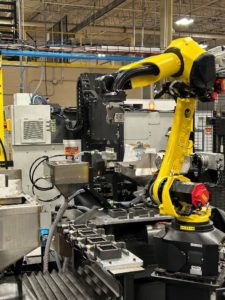 Unfortunately, scheduling education is becoming as difficult as our vendor supply chain and a depleted workforce. Control engineers' skill sets are in high demand, but the priority remains to foster growth and education within our own facility. Our goal is to spread expertise from the engineers and encourage workers to develop their own skill sets to complement others. This promotes high-level discussions about where and how we can automate the next manual current process.
Currently, Bullen only has one robotic system that is still in testing and predicated to be running for production by the end of 2023. By the end of 2024, Bullen will have 4 robot cells up and running. The future at Bullen is bright thanks to an investment and belief in robotics, and our employees.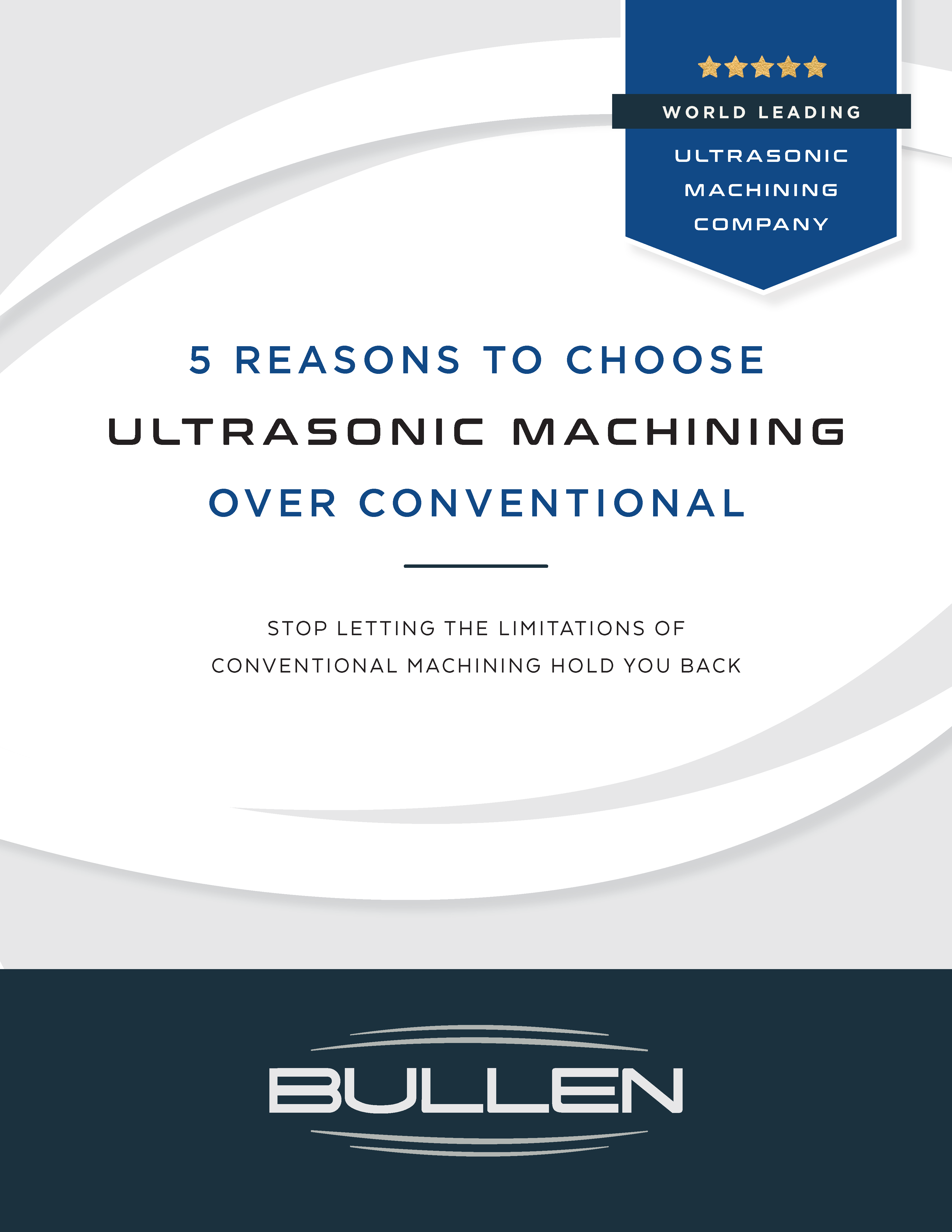 5 Reasons to Choose Ultrasonic Machining Over Conventional
Stop letting the limitations of traditional machining hold you back. Download this free PDF today.